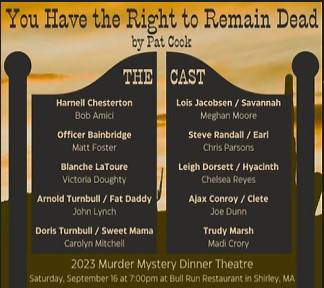 9-16-2023
The Bull Run & Cannon Theatre present

D
inner & A Murder Mystery
"You Have the Right to Remain Dead"
An Audience-Participation Mystery Comedy
Settle into your seats as you prepare to enjoy a full dinner buffet while solving a murder mystery in the audience-participation based show. The narrator, Harnell Chesterton, enters and gives you a few "helpful hints" on what to watch for during the performance. Then the play itself begins, with Fat Daddy, a rich but vindictive southern gentleman, announcing changes to his will that his conniving and scheming family were not expecting – his wife Sweet Mama, his daughter Hyacinth, his only son and heir Earl, and Earl's cheating wife Savannah, along with their hired handyman, Clete. So, you know who's going to die, right? Well, when the body is discovered, even the director of the play, Blanche, is surprised, and, together with Officer Bainbridge, the actors themselves, and you, the audience, attempt to unravel the mystery of who killed……
The Cannon Theatre was founded by Shawn Cannon and Bret Bahe, who shared a dream of creating a community theater as a place for learning and performing great plays, a place where people could enjoy the company of others, laugh, and just lose themselves in the joy of artistic expression. After 10 wonderful years located in the mill buildings in Littleton, the theater had to shut down during the pandemic but used that time to begin a search for a new space, one that was slightly larger to seat more patrons yet not lose that intimate feel that is part of its DNA, one with safe and accessible parking, and one close to its original location. The result is our beautiful new Cannon Theatre located in Devens!
The Cannon Theatre is proud and excited to be performing for the first time at the Bull Run Restaurant!
Ticket price includes Show & Buffet: Artisan Bread, Little Leaf Mixed Green Salad, Chicken & Broccoli Alfredo, Bull Run Beef Lasagna, Eggplant Lasagna, Fettuccine, Risotto & Vegetable Ratatouille
.
Full service cash bar available

.
BUY TICKETS
"You Have the Right to Remain Dead" M...
Date and Time
Saturday Sep 16, 2023