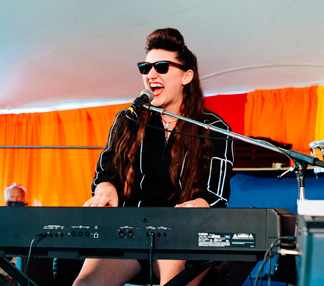 1-22-2022
Born in New Hampshire and emerging from a world steeped in Blues and Boogie Woogie, Veronica Lewis is a musical force beyond her years. Her piano playing is described as "having the power of a summer thunderstorm in the Delta". This year, she's garnered such prestigious awards as Sean Costello Rising Star Award, Best New Artist Debut Album, Blues Blast Music Awards, Blues Artist of the Year 2020, Boston Music Awards, 2020's Boston Blues Challenge Winner, and 2020's Best Young Artist-New England Music Hall of Fame.
A mesmerizing live performer with serious piano chops, soaring vocals, and songs that boogie away your blues. She's a seasoned pro at 17, rocking the piano and electrifying audiences with music that's exciting and energetic, yet rhythmically complex and challenging. A tight, straight-ahead trio of piano, drums, and sax delivers a stunningly "full-on" sound, as Veronica belts out a message made to heal the soul. Her strong, expressive voice is punctuated with a light and delicate vibrato, belying her age. This Indie American piano player, singer and songwriter puts a truly modern spin on the Roots of American Music. Veronica writes original songs with stories that are both thought-provoking and humorous. Her inspiration comes from a mix of musical genres and eras, ranging from Katie Webster, Otis Spann and Dr. John all the way to Freddie Mercury and Avril Lavigne. Veronica fuses these crucial elements together with the true language of the Blues and the energy of the early rock and rollers, like Little Richard and Jerry Lee Lewis to create a truly individual style that is completely Veronica Lewis.
With her recent signing to

Blue Heart Records

, as the capstone to 2020, Veronica is moving straight up, and fast. 2021 is already slated to be a busy and career-defining year, seeing the independent release of her album, a return to live performances and continuing to create new music.
"Every now and again a young spitfire artist comes along to change the game, or at least up the ante. Lewis does both." - American Blues Scene
"Veronica Lewis sings with a sweet, booming soul voice and plays piano like Dr. John doing Jerry Lee Lewis and Hadda Brooks all at once." - Jed Gottlieb, The Boston Herald
IMPORTANT: ALL TICKETED SHOWS AT BULL RUN REQUIRE PROOF OF VACCINATION or PROOF OF NEGATIVE COVID 19 TEST PERFORMED ON SITE. NO EXCEPTIONS.
PLEASE READ OUR COVID ENTRY POLICY HERE.
BUY TICKETS
* Veronica Lewis (Bull Run Restaurant...
Date and Time
Saturday Jan 22, 2022