Date and Time
Saturday Aug 3, 2019
* Trude and Tag (Bull Run Restaurant)
Description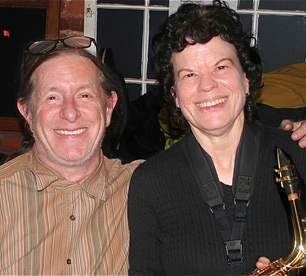 8-3-2019 (Ballroom)
Trude and Tag are: saxophonist

Trude Witham

and pianist

Tag Vennard

. They first met at The Java Room in Chelmsford, MA and have been performing together ever since. Besides their original compositions, they play swing, pop, blues and Latin covers.
They are a regular feature at The Java Room and Markoh's On Main in Ayer, and have also appeared at The Chelmsford Center for the Arts, Main Streets Market and Cafe, Bailey's Bar & Grille, and the former Harvest Café and The Groton Tavern.
Their first CD of original songs, "Stepping Stones," was released in August 2015, and they are busy working on a second CD of original material.
VIDEO
Buy Tickets