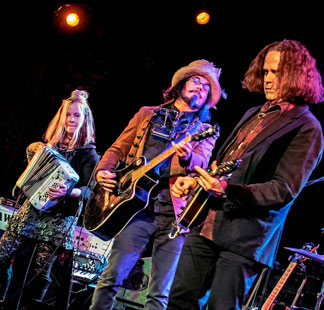 11-24-2023
Explore the depths of Americana 'one trippy tune at a time' with the Slambovian Circus of Dreams. Voted

Chronogram Magazine

's "Best Band of 2022" for their rootsy rockin' psychedelia, the Slambovians' deep connection with audiences and exciting live shows are legendary. Dylan, Bowie, Incredible String Band, Syd Barrett and The Waterboys may flavor the musical mix, but the Slambovians' musicianship and songwriting stand on their own.
With vocals "soothing and bewitching as a snake oil tonic," the resident shaman of Slambovia, lead singer Joziah Longo is joined onstage by bandmates Tink Lloyd (accordion, cello, mandolin, flute) and the brilliant guitar-slinging and mandolin-playing skills of Sharkey McEwen – creating a show that constantly evolves "with a little help from their friends" - RJ McCarty (keys, bass, sax), Bob Torsello (bass) and Matthew Abourezk (drums).


Woodstock-tinged psychedelia, a hint of Southern rock and solid songwriting elevates this version of Americana to new heights. The band's latest studio release, "A Very Unusual Head," is considered to be "their finest work to date." (Rock'n'Reel Magazine, UK). Anthony Thistlethwaite is featured on the album, as well as singer-songwriter Dar Williams, who also covers the Slambovians' "Sullivan Lane" on her new album. "I'll Meet You Here."

"Longo is an awesome songwriter" – Garth Hudson, The Band
"Simply one of the finest American bands out there..." - All Music Guide
"Casting a wide net, their music energizes anyone who hears it." - Relix Magazine
"Mightily impressive and hugely original... 'tis truly an epic soundtrack." - Maverick Magazine
"They take the stage by storm." - New York Times

VIDEO 1 - VIDEO 2 - VIDEO 3
BUY TICKETS
The Slambovian Circus of Dreams (Bull...
Date and Time
Friday Nov 24, 2023