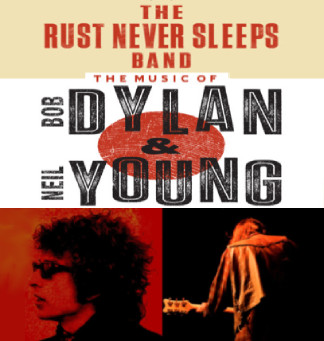 11-4-2023
Dylan and Young... the master and disciple. Two of the most iconic and influential singer/songwriters of the 20th century, Bob Dylan and Neil Young are universally admired and respected for the depth and range of their musical bodies of work. The RUST NEVER SLEEPS band is proud to present an evening of inspired music, as well as special musical selections by the likes of The Band, The Byrds, The Buffalo Springfield, The Stray Gators, Joan Baez, The Rolling Thunder Revue, Crazy Horse, and others!
RUST NEVER SLEEPS is a six-piece band featuring Kenny Gibson on vocals, guitars, and harmonica; Chuck Nemitz on guitars and vocals; Reena Langmeyer on vocals; Rob Hamilton on pedal steel guitar and keyboards; Mike Garron on bass; and Jeremy Esposito on drums.

For the past twenty years, they've brought the magic of Neil Young to the stage, with their own brand of artistry and passion. Don't miss the opportunity to come out and experience this exciting new show!
VIDEO
BUY TICKETS
the RUST NEVER SLEEPS Band presents T...
Date and Time
Saturday Nov 4, 2023