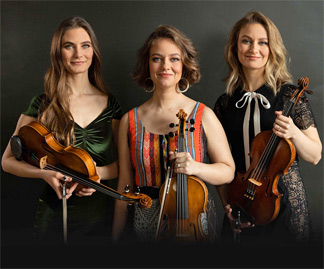 5-14-2021
Rescheduled
from 7-16-2020; then 11-8-2020
DUE TO THE COVID-19 PANDEMIC, THIS SHOW MAY BE RESCHEDULED. ALL TICKETS WILL AUTOMATICALLY TRANSFER TO THE NEW DATE & YOU DO NOT HAVE TO DO ANYTHING EXCEPT BE PATIENT. WE ARE ACTIVELY WORKING TO RESCHEDULE IF NECESSARY. THANK YOU FOR YOUR PATIENCE!
Tickets automatically transfer
When The Quebe Sisters
from Texas take the stage, and the triple-threat fiddle champions start playing and singing in multi-part close harmony, audiences are transfixed, and then blown away. It's partly because the trio's vocal and instrumental performances are authentic all-Americana, all the time. With over fifteen years of touring to date, The Quebe (ryhmes with maybe) Sisters have delivered their authentic triple fiddle and three-part harmony sound to the concert halls and festivals of North America, Europe, and Russia. And not surprisingly, they win standing ovations at just about every show. It's been that way since 2000, when they started fiddling together as pre-teens.

The Quebes' evolution from the whiz-kid Western swing fiddlers they were back then to the smokin'-hot young adult Americana band they are today is a remarkable story. Along with headlining their own shows to ever-growing audiences, they've shared stages with American music legends like Willie Nelson, George Strait, Merle Haggard, Ricky Skaggs & Kentucky Thunder, Ray Price, Connie Smith, Marty Stuart, Larry Gatlin and the Gatlin Brothers, Ray Benson and Asleep at the Wheel, Riders in the Sky and many others.

Today, after more than a decade of travelling the U.S. and the world, and recording three acclaimed albums, Grace, Sophia and Hulda Quebe are pros in a variety of genres, and count many famous musicians among their biggest boosters. Their unbridled passion for American music, along with talent, skills and a lot of hard work, have taken them far beyond their wildest early aspirations.

"One thing is for sure, you don't see a group like The Quebe Sisters come along every day," famed Opry announcer Eddie Stubbs told listeners on his own show on Nashville's WSM. "Give them your undivided attention, and if you're not already, you too, will become a fan."
VIDEOS:
With Asleep at the Wheel
-
Teardrops from my eyes
Buy Tickets
The Quebe Sisters Band (Bull Run Res...
Date and Time
Friday May 14, 2021