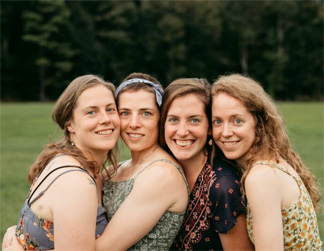 11-22-2023
Sprouting from a small farm in rural Massachusetts, the four Green Sisters
were raised on music accompanying their chores.

They revel in each other's company, and jump easily from bluegrass to barbershop to blues to originals of all styles. They've been playing venues in New England regularly for the last several years and have garnered quite the following. It's hard to not to smile when treated with their tight harmonies and high energy tunes. Their live show is where they really shine, bouncing their jovial banter around the stage as only siblings can.

The sisters' second studio album, "Blink of an Eye," was released in late 2020. Get a signed copy at the show - you will play it to death.

We are always pleased to welcome them back to the Bull Run stage for their annual "Night before Thanksgiving show."

They are sure to send you into the holiday season with high spirits!

VIDEO - on

Granite State of Mind

. VIDEO - At the Guilford Fair.
BUY TICKETS
The Green Sisters (Bull Run Restauran...
Date and Time
Wednesday Nov 22, 2023