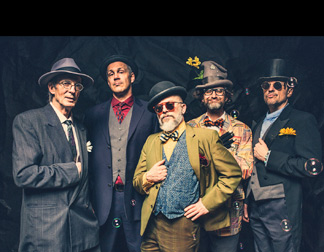 6-24-2023
"And the Doctor say, Give him Jug Band Music"
"It seems to make him feel just fine."
Played by men in top hats and derbies.
The Busted Jug Band's music is a festive romp through time featuring group vocals, swinging rhythms and novel instrumentation. Inspired by the street bands of the early 20th Century, the group features kazoos, washboard, mandolin, banjo-uke, washtub bass, harmonica, accordion, jug, rhythm bones, National guitar, slide whistle and bicycle horns. The group plays music of the classic black Jug Bands and String Bands of Memphis and Mississippi, and small Swing Bands and vocal groups of New Orleans and the Urban North. Country Blues, novelty songs, standards, early Jazz and Hillbilly music are some of the styles featured.
During the Jazz Age, musicians who couldn't afford trumpets, tubas and drums replaced them with homemade instruments, such as kazoo, washboard and jug. Thus the Jug Band sound, sometimes called "poor man's Jazz", was born. This was revived in the 1960s with groups like Jim Kweskin's Jug Band. The Busted Jug Band pushes the Jug idiom beyond its historical confines. Homemade instruments are modified with modern techniques for maximum impact. Inspiration has come from the likes of Spike Jones & His City Slickers and Hoosier Hotshots. Vaudevillian sight gags, jokes and colorful stage attire round out the show and fun reigns supreme.



The Busted Jug Band are

: Smiling Hernando (Pee Wee) Banjo-Uke, Ukulele, Slide Guitar, Mandolin, Banjolin, Kazumpet, Kazoophonium, Bulb Horn, Jaw Harp, Slide Whistle; Dr. Kayola o'la Guitars, Banjo-Ukulele, Squeeze Box, Field Organ, Kazombone, Vocals: Early Bird Harmonica, Guitar, Mandolin, Kazoo, Kazombone, Jug, Vocals; Rude Boy Wash'n'Speil, Bones, Corrugated Tie, Kazoo, Vocals; Lefty Boom-boom Boom Bass (Cadillac Of Washtubs) Kazoboe, Halusi.
VIDEO
BUY TICKETS
The Busted Jug Band (Bull Run Restaur...
Date and Time
Saturday Jun 24, 2023