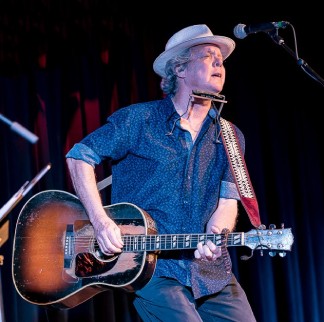 10-15-2021

IMPORTANT: ALL TICKETED SHOWS AT BULL RUN REQUIRE PROOF OF VACCINATION or PROOF OF NEGATIVE PCR COVID 19 TEST WITHIN 72 HOURS OF PERFORMANCE.
More than four decades have passed since Steve Forbert made his way to New York City from his Meridian, Mississippi birthplace in quest of a career in music. It was the most unlikely time and place for a folk singer to leap into the fray in a burgeoning scene where new wave and punk were emerging while he took the stage as a the archetypal folkie, armed with just an acoustic guitar and sheaf of very personal songs.

After busking on the street for change from passers by, he rose to sharing bills at CBGB's with the likes of

Talking Heads

,

The Shirts

and

John Cale

as well as headlining more traditional venues such as The Bitter End and Kenny's Castaways. Against staggering odds, he found blazing success early on with a string of critically acclaimed and commercially accepted albums including

Alive on Arrival

(1978),

Jackrabbit Slim

(1979), and

Little Stevie Orbit

(1980) and a most unlikely smash hit single, "Romeo's Tune."

His career had its share of triumphs as well as stumbles and disappointments as did his private life. Through it all, over the course of a marriage, divorce, raising three children, writing and recording 18 studio albums and fronting an ever changing line-up of supporting musicians, he persevered and stayed true to his roots and the folk ethos. Forbert says, "I've never been interested in changing what I do to fit popular style and needs."
In 2020, Forbert was the recipient of the

Governor's Arts Award

in his home state of Mississippi, having already been inducted into the

Mississippi Musician's Hall of Fame

in 2016.
BUY TICKETS
* Steve Forbert (Bull Run Restaurant)
Date and Time
Friday Oct 15, 2021