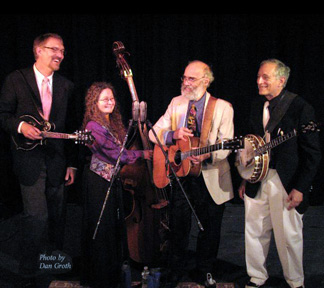 11-4-2023 (Ballroom)
"Southern Rail's bluegrass is high octane exuberant fun with lush harmonies, irrepressible good humor and sparkling banjo, guitar and mandolin. The group has released 11 recordings to wide acclaim. Two of the band's members, guitarist Jim Muller and bassist Sharon Horovitch, were recently inducted, by the Rhode Island Bluegrass Alliance, into their Bluegrass Hall of Fame."
Over the years, Southern Rail's recordings, featuring their prolific songwriting, have graced Bluegrass Unlimited's Top Thirty Singles Chart for a combined total of 32 months, climbing to #11. One of Southern Rail's earlier CD's, a special Bluegrass Gospel compilation entitled Glory Train, was nominated for Best Gospel Recording of the Year by the International Bluegrass Music Association. Southern Rail has been selected by the New England Foundation for the Arts to be included in their prestigious Touring Roster.
Southern Rail: Jim Muller, Guitar and Lead Vocals; Sharon Horovitch, Acoustic Bass and Harmony Vocals; Richard Stillman, Banjo and Harmony Vocals; John Tibert, Mandolin and Harmony Vocals.
"First rate bluegrass...precise harmonies, sharp instrumental work...soaring and lush." - Boston Herald

"Simply outstanding!" - Top rating by Cybergrass

"One of the most significant groups in contemporary bluegrass...on the cutting edge of creativity." - Bluegrass Unlimited Magazine, VA

"The vocal harmonies are exquisite and the musicianship is impeccable." - Radio Star, Ireland

"Unplugged and untamed! One of the hottest groups on the circuit!" - Chico News & Review, Chico, CA
"Beautiful quartet singing...a pure winner." - SPBGMA's Bluegrass Music News
BUY TICKETS
Southern Rail (Bull Run Restaurant)
Date and Time
Saturday Nov 4, 2023