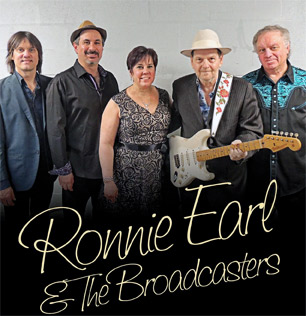 5-1-2021 - rescheduled from 9-26-2020
DUE TO COVID 19 RESTRICTIONS, THIS SHOW MAY BE RESCHEDULED. ALL TICKETS WILL AUTOMATICALLY TRANSFER TO THE NEW DATE & YOU DO NOT HAVE TO DO ANYTHING EXCEPT BE PATIENT. WE ARE ACTIVELY WORKING TO RESCHEDULE IF NECESSARY. THANK YOU FOR YOUR PATIENCE!

Tickets will automatically transfer to the new date.
Ronnie Earl's got it. Whatever it is that makes The Blues dig down into your soul and stir it up. Whatever it is that can hold your attention with six strings and 22 frets and never sound stale or mediocre. Whatever it is that makes you smile in the midst of a very dangerous and heartless world. Whatever it is, he's got it down.
Maybe it was his years with Roomful of Blues. Or maybe it was the years touring with his own bands throughout the world that makes him equally conversant with the styles of Robert Jr. Lockwood, T-Bone Walker, and Stevie Ray Vaughan. Or maybe it's something that you don't get on the road or alone in a room practicing scales. Maybe it's something you find inside yourself and learn to express on guitar, piano, easel, trowel or skillsaw. Maybe he's one of us and we can feel it when he plays, letting us know that, like us, he's been up, down and everywhere in between. Or maybe he's just one of the finest living Blues guitarists on the planet. If you love the Blues and you haven't been to a Ronnie Earl show, do yourself a favor.

The Broadcasters are: Dave Limina on keys, Forrest Padgett on drums, Paul Kochanski on bass and Diane Blue on vocals.

Ronnie's newest Album, "Beyond the Blue Door," is a whopping 15 track sonic journey that serves as a clinic on the versatility of blues guitar. This record covers everything from relaxed shuffles to motown grooves and mellow, sophisticated duets. Special guests on the album include David Bromberg, acoustic guitar and vocals; Kim Wilson, harmonica and vocals; and Greg Piccolo, tenor sax.
"Ronnie Earl is an incredible musician. He plays with more emotion than anyone else who plays blues, or really anything, today, and he gets me every time I hear him. The Broadcasters are the quality of musicians you would expect Ronnie to be playing with: solid, tasteful, and moving. You can't be better than that." - David Bromberg
Buy Tickets
* Ronnie Earl & the Broadcasters (Bul...
Date and Time
Saturday May 1, 2021