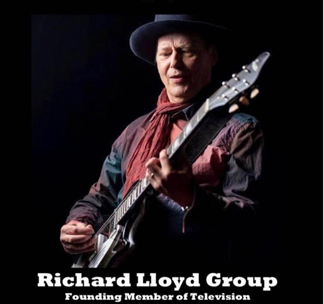 4-28-2023
Richard Lloyd is the legendary electric guitarist, singer/songwriter and founding member of "Television," a band that rose to fame with their 1977 debut reease "Marquee Moon," widely regarded as one of the greatest albums in rock and roll history and perhaps the most defining and hightly influential release of the 1070s New York rock scene.
The CBGB scene of New York in the 70s was a monumental time in popular culture. Television, along with

The New York Dolls

,

Ramones

, Blondie,

Talking Heads

,

Patti Smith

and many of the most influential American musical figures of the era cut their teeth at that dingy bar in SoHo. Television's 1977 debut album, Marquee Moon, features some of the most iconic six-string licks of the whole scene. Hooky, complex and imagery laden, tracks like 'See No Evil, 'Marquee Moon' and 'Prove It', cemented Tom Verlaine, Richard Lloyd and the band as CBGB's very own guitar heroes. Their playing went far beyond anything that the New York Dolls had done and with a minimalist outlook, set the foundations for future guitar pioneers Sonic Youth, Dinosaur Jr., and more recently, bands like Ought.
Lloyd embarked on a solo career after Television disbanded, releasing seven solo albums and working as a guitarist, session musician and band member with Matthew Sweet, John Doe, Rocket from the Tombs and more.
Released in October 2017, Lloyd's book, "Everything is Combustible: Television, CBGBs and Five Decades of Rock and Roll: The Memoirs of an Alchemical Guitarist" establishes Lloyd as a masterful storyteller and humorous and insightful writer with an acerbic and razor-sharp wit.
BUY TICKETS
* Richard Lloyd Group (Bull Run Resta...
Date and Time
Friday Apr 28, 2023