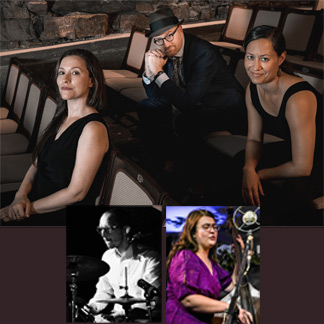 4-23-2023
"Angels in the Wreckage" CD Release Show
Featuring Stefan Amidon & Hazel Royer
With the release of their new record 'Angels in the Wreckage', the Vermont-based American Roots band LOW LILY tours as a five-piece with drums and bass for the first time ever! The show features Hazel Royer on double bass, and Stefan Amidon (of the Sweetback Sisters) on drums. This exclusive full-band performance brings the energy of fiddle music, the introspective quality of contemporary folk, the precision of Bluegrass, the drive of Americana, and combines all these elements into one stunning soundscape.
With a vocal blend that has been dubbed "outstanding" and "meticulous," Low Lily has crafted a signature sound which they have shared with enthusiastic audiences throughout North America and the UK, garnering

two #1 songs on international folk radio

and

two Independent Music Award wins

. In 2018, the band released a full-length album with 2X award-winning title track "10,000 Days Like These" and their original song "Hope Lingers On", which has been sung by choirs around the world as an anthem for peace and justice. Since then they have released a handful of singles, but their second full-length album was delayed due to the pandemic, so are thrilled to finally announce its release.
Low Lily's core founding members are married couple Liz Simmons and Flynn Cohen, both of Brattleboro, VT, who welcomed Natalie Padilla from Bozeman, MT as the newest member of the band last summer after Lissa Schneckenburger parted ways with the band. New member Padilla's world-class fiddle-playing is versatile- she has won fiddle championships in multiple styles, including bluegrass, Old Time, and Texas fiddle. Her sweet, clear voice blends beautifully with Cohen's and Simmons' in close three-part harmony– a major feature of their new music. With "Angels in the Wreckage", produced by banjo legend Dirk Powell, Low Lily's sound has veered more assuredly towards the roots of American music, though the original folk songs that are the hallmark of Low Lily's sound remain at the fore, as they tackle such complex topics as love, loss, hope, justice, family heritage, and environmental destruction.
Winners of

Best Bluegrass Song

and

Vox Pop Fan Favorite, Independent Music Awards 2019
"[Low Lily has] an incredible knack for putting a little pop twist on a traditional Folk/Americana sound... it's a blend that works beautifully." - PopMatters
"Low Lily brandishes their formidable individual Folk foundations within a collective sound that's as smart with sense of pop phrasing and flair as it is roots-savvy." - Roots Music Report
BUY TICKETS
* Low Lily CD Release (Bull Run Resta...
Date and Time
Sunday Apr 23, 2023