Date and Time
Thursday Jan 16, 2020
* Kerrville North (Bull Run Restauran...
Description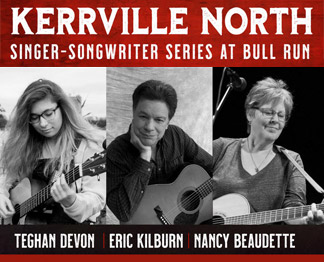 1/16/2020
Please join us for the 2nd show in our new acoustic music series, Kerrville North, with three amazing singer/songwriters Teghan Devon, Eric Kilburn and Nancy Beaudette.
Teghan Devon is an award-winning singer-songwriter who's music is a cross-pollination of folk, indie, and pop. According to houstonmusicreview.com, she "faintly brings back recollections of Edie Brickell's unique and fresh lilt and perspective." She has been praised for her "honest and clear vocals . . . an artist who doesn't need to hide behind flare to make stellar music." ("Five Modern Singer-Songwriters To Help You Face The Day," EarToTheGroundMusic). In December 2018, Teghan won multiple awards in the

Mid-Atlantic Song Contest

, including

Young Artist

winner and a

Silver Award

. Teghan was selected as a

New Folk Finalist

at the Kerrville Folk Festival in 2018 and 2017. In July of 2018 Teghan released her first full-length album "Fingers Crossed". She will release her new EP "Little Lion", in early 2020.

Eric Kilburn: Encouraged by a complimentary postcard from Pete Seeger in 1981, Eric Kilburn
quit his day job and began playing music full time. In 1990, his wife pregnant , Eric
got off the road and into the studio, and he's recorded over 800 albums by some of
the biggest names in the folk and jazz world. His new album, "My Own Mistakes" is a
collection of songs about growing up and parenting that tells personal and universal
stories with insight, irony, and humor. Eric was a Kerrville Finalist in 2019.
Nancy Beaudette: Blending brave and honest songwriting, first-rate musicianship and a huge helping of native Canadian wit, Nancy is an artist of songs and heart. She was raised near Cornwall, Ontario, a place sustained by farming and millwork where French and English languages were friendly neighbours. Her songwriting delves into those roots, weaving a nostalgic past into lush songs of familial history, good-humored folly and poignant observations of life and loss. Over the past few years Nancy has been a Winner or Finalist in some of the music industries most distinguished competitions including

Grassy Hill Kerrville New Folk Finalist

in 2019,

Mountain Stage New Song Competition

,

Mid-Atlantic Song Contest

,

Great American Song Contest

and the

Independent Music Awards

.
Buy Tickets