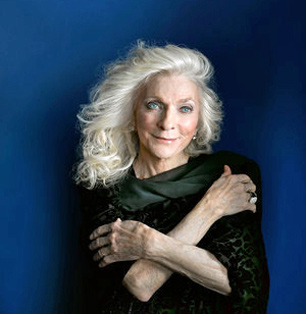 6-25-2022

Few singers have the staying power of folk icon, Judy Collins. For nearly 50 illustrious years, her gorgeous voice and poetic lyrics have galvanized a generation. She has released 50 albums, has had numerous Top 10 hits, Grammy nominations and gold and platinum selling albums.

Her rendition of Joni Mitchell's "Both Sides Now" on her classic 1967 album, "Wildflowers," has since been entered into the Grammy's Hall of Fame. In 1975 Judy's version of "Send in the Clowns" won "Song of the Year." And even though it had been recorded by 200 people before her, Judy's version still is the first and only song of Stephen Sondheim's to reach the Top 10. Her interpretation of Leonard Cohen's "Suzanne" is considered by many the definitife version. Recently, contemporary and classic artists such as Rufus Wainwright, Shawn Colvin, Dolly Parton, Joan Baez and Leonard Cohen honored her legacy with the album "Born to the Breed: A Tribute to Judy Collins."

A longtime (55 years) New York City resident, Judy has appeared on "Sesame Street," dueting with Big Bird and performing an aria with Snuffleupagus, and testified at the trial of the Chicago 7. And now, at 77, she is as creatively vigorous as ever, writing, touring worldwide and nurturing fresh talent. She is a modern day Renaissance woman who is also an accomplished painter, filmmaker, record label head, musical mentor and an in-demand keynote speaker for mental health and suicide prevention. She continues to create music of hope and healing that lights up the world and speaks to the heart.

"The way I look at it," Judy says "and this is over 50 years I've been doing this, songs: I don't find them, they find me. They locate me. And the ones that I write locate me, too."
BUY TICKETS
* JUDY COLLINS (Bull Run Restaurant)
Date and Time
Saturday Jun 25, 2022