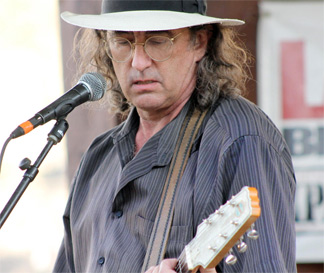 3-25-2023
"James McMurtry writes like he's lived a lifetime," said

John Mellencamp

back in 1989, when "Too Long in the Wasteland" hit the Billboard 200. "James McMurtry is one of my very few favorite songwriters on Earth and these days he's working at the top of his game," says Americana all-star

Jason Isbell

. The former earned McMurtry his highest Billboard 200 chart position in two decades (since eclipsed by "Complicated Game") and notched Americana Music Award nominations. "Childish Things" spent six full weeks topping the

Americana Music Radio chart

in 2005 and 2006, and won the

Americana Music Association's Album of the Year

, with "We Can't Make It Here" named the organization's

Song of the Year

.
Other accolades include a 1996 Grammy nomination for Long Form Music Video for Where'd You Hide the Body and an American Indie Award for Best Americana Album for It Had to Happen (1997).
In James McMurtry's new effort, "The Horses and the Hounds," the acclaimed songwriter backs personal narratives with effortless elegance ("Canola Fields") and endless energy ("If It Don't Bleed"). This first collection in seven years, due August 20 on New West Records, spotlights a seasoned tunesmith in peak form as he turns toward reflection ("Vaquero") and revelation ( closer "Blackberry Winter"). Familiar foundations guide the journey. "There's a definite Los Angeles vibe to this record," McMurtry says. "The ghost of Warren Zevon seems to be stomping around among the guitar tracks. Don't know how he got in there. He never signed on for work for hire."
"The simple fact is that James McMurtry may be the truest, fiercest songwriter of his generation…" -
Stephen King | Entertainment Weekly
The most vital lyricist in America today." – Bob Harris, BBC 2 RADIO
"James McMurtry is a true Americana poet – actually he is a poet regardless of genre" – Michael Nesmith
"McMurtry might be the best topical writer performing right now and (Just Us Kids) finds him at his finest."
– Patterson Hood, Drive-By Truckers
"America's fiercest songwriter" – CNN
VIDEO
BUY TICKETS
* James McMurtry (Bull Run Restaurant...
Date and Time
Saturday Mar 25, 2023