Date and Time
Wednesday Jan 22, 2020
* Helen's Willow Wind Native American...
Description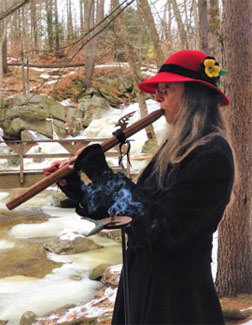 January 8, 15, 22 & 29
The Native American Flute is a portable, intuitive instrument anyone can play. If you can cover the holes and breathe, you can play it anywhere. No music theory or reading sheet music required. The first class will have you playing your own music direct from your heart on concert level High Spirits Flutes. Instruments and lessons are provided by Helen's Willow Wind, inspiration provided by you!
In these small group lessons (8 per class), you will receive individualized attention and maximum exposure to various playing styles. Fluting is a soothing, self expressive and meditative experience that reduces stress while increasing dexterity and lung capacity. Tickets are $140 for 4 week series.
Instructor: Helen Yetman-Bellows.




VIDEO
Buy Tickets