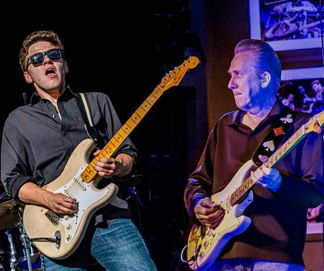 2-19-2022

The Gabe Stillman Band is a three-piece machine that runs at full tilt for every performance. While their sound is unmistakably rooted in the blues, the band draws from the deep well of all American roots music. Since landing in the final 8 of the 35th Annual

International Blues Challenge

in Memphis TN, and being further honored as the recipient of the esteemed

Gibson Guitar Award

, Gabe and his band have been focused on expanding their footprint on a national and international level.
At this show Gabe is joined by very special guest Anson Funderburgh. This blistering Texas guitar slinger draws some of the very best blues guitar sounds in the world from his Fender Stratocaster. From local joints in Texas to blues clubs and festivals around the world, Funderburgh has earned his reputation as one of contemporary blues music's most relevant and esteemed guitar players with his unmistakable style, tone and sensibility.
Gabe's most current project, "Just Say the Word," is on the Boston-based, Vizztone Record Label and was guided by famed musician and producer Anson Funderburgh. It continues to chart on the

Roots Music Radio chart

, recently reaching #5. It also debuted at #10 on the Billboard Blues Chart and release reviews are strong.
"Gabe is somebody who has it all. His songs move me, he has a way with words. He is an amazing singer, a great songwriter and a wonderful musician." - Anson Funderburgh, Producer
"Gabe Stillman has got the chops and the intensity the blues should have. Keep your eye on him!" - Toronzo Cannon, Alligator Recording Artist
"Gabe plays the blues with strength, personality, and a depth of both feeling and musicianship." - Nighthawks' founder and frontman Mark Wenner
VIDEO
BUY TICKETS
* Gabe Stillman Band with Anson Funde...
Date and Time
Saturday Feb 19, 2022