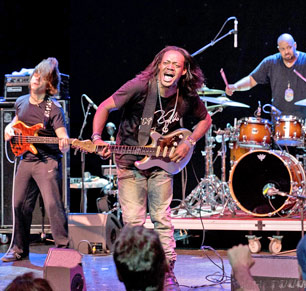 11-17-2019
"Eric Gales is one of the best, if not the best, guitar player in the world" Joe Bonamassa

"He is absolutely incredible" Carlos Santana

"How Eric Gales isn't the hugest name in rock guitar is a total mystery" Dave Navarro

On May 9, 2019, Eric won the

Blues Music Award

for 'Blues Rock Artist of the Year.'

If you're not familiar with blues guitarist Eric Gales, go now & find his albums or a live show and check him out. Eric is a truly explosive guitarist - the kind whose playing makes scores of other guitarists wonder what the hell they've been doing with their lives. On his last album, "Middle of the Road," the standout cut, "Boogie Man," finds Gales teamed up with Gary Clark Jr. "It's an amazing track that I think all will enjoy," Gales tells Guitar World. "Gary adds an extra spice that just takes it over the top. Boom!"

Hot off his tour with guitar legend Walter Trout, where critics and fans alike were on their feet screaming whenever Eric took a solo. He is rising so fast now that no one can stop him.
Eric's siblings began teaching him licks in the style of Hendrix and Albert & BB King at age four. By the time he was ten years old he was playing blues competitions with his brother Eugene backing him on bass. And although Gales plays a right-handed guitar "upside-down" (with the bass E string on the bottom), he is not naturally left-handed - he was taught by his brother, who is left-handed, and he never second-guessed the untraditional technique.
Guitar World Magazine's Reader's Poll

named Eric the "Best New Talent" in 1991. During this time he had two rock radio hits "Sign of the Storm" and "Paralyzed" and had spots on TV shows such as

The Arsenio Hall Show

. In 1994 he performed with Carlos Santana at Woodstock '94. In 1995, he teamed up with both of his brothers to record the album, "Left Hand Brand" as the Gales Brothers. And he has released a string of highly acclaimed albums including "That's What I Am," "Crystal Vision," "The Psychedelic Underground," "The Story of My Life," "Layin' Down the Blues," "Relentless," "Transformation," "Live 2012" and now his newest, "Middle of the Road." Of the new album, Eric says "It's about being fully focussed and centred in the middle of the road," Gales adds. "If you're on the wrong side and in the gravel, you're not too good and if you're on the median strip that's not too good either, so being in the middle of the road is the best place to be."
So if you're not familiar with blues guitarist Eric Gales, you need to be. Check him out here while he's still playing smaller venues.
Buy Ticket
* Eric Gales (Bull Run Restaurant)
Date and Time
Sunday Nov 17, 2019