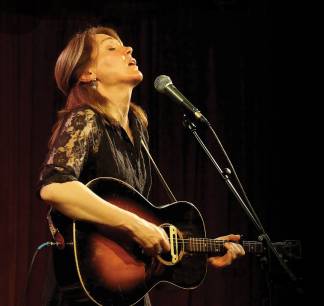 11-20-2021 (Ballroom)

IMPORTANT: ALL TICKETED SHOWS AT BULL RUN REQUIRE PROOF OF VACCINATION or PROOF OF NEGATIVE PCR COVID 19 TEST WITHIN 72 HOURS OF PERFORMANCE.
Since her 2006 breakthrough album, My Remembrance of You, singer-songwriter Diana Jones has been a major literary voice in contemporary song, rooted in the Appalachian traditions of her birth family. Her new album, Song To A Refugee, has captured worldwide attention. Featuring guests Richard Thompson, Peggy Seeger, Steve Earle and others, the song cycle lends compassion to the struggles of refugees fleeing terror and persecution in their homelands." "None of us know where our footsteps will fall," Jones suggests.
From a woman walking miles to the US border carrying her child, to the young children separated from their parents fleeing their homeland, Jones gives an immediacy to the stories of our time while illuminating the more generic themes within. Song To A Refugee artfully considers the times we live in, speaks for those often without a voice and encourages a humanitarian response.
Jones is rooted in the Appalachian traditions of her birth family, and has proven unusually adept at distilling complicated cultural forces down to a particular person in a particular time and place.
Jones opened for Peggy Seeger at Chicago's Old Time School of Folk Music. Joan Baez recorded "Henry Russell's Last Words" on Day After Tomorrow, the Grammy-nominated 2008 album produced by Steve Earle. Earle invited her to do several shows with him, and Richard Thompson invited Jones to open his UK/EU tour, which began their friendship.
With Song To A Refugee, Jones continues to give voice to the dispossessed, and bring awareness to social justice issues, taking her place in the lineage of Woody Guthrie and Pete Seeger. "I believe we all want to get involved and give each other hope," Jones says, "how can any of us look away?"
VIDEO 1 - VIDEO 2
BUY TICKETS
* Diana Jones (Bull Run Restaurant)
Date and Time
Saturday Nov 20, 2021