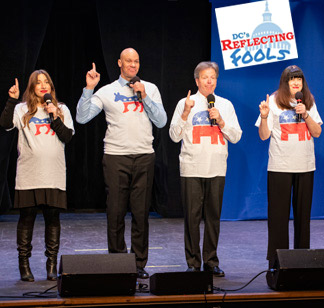 3-31-2023
DC's Reflecting Fools: Featuring Former Members of the

Capitol Steps
What happens when Washington, D.C.'s premiere, political satire group - The Capitol Steps - calls it quits after nearly 40 years? Most folks would agree that it was a great run, and the story would end there.
But an intrepid group of cast members and a co-writer would not go quietly into that good night. This band of fools reflected on a world without musical, political satire, and didn't like what they saw. And just like that D.C's Reflecting Fools was born.
While foolish enough to embark on this new journey, they were smart enough to not reinvent the wheel. Fast-paced, laugh out loud show…check. Equal opportunity offenders…check. Skewering both sides of the aisle…check. If a "Steps-style show" is wrong, they don't want to be right.
The Reflecting Fools cast has a combined 60+ years of experience on stages across the nation and are every bit the show professionals you've come to expect.
They will give you a memory that will last a lunch time.
The Capitol Steps have closed their doors forever. But their spirit, irreverence and D.N.A. lives on with D.C.'s Reflecting Fools!

Read about the Reflecting Fools players HERE

VIDEO
BUY TICKETS
* DC's Reflecting Fools (Bull Run Res...
Date and Time
Friday Mar 31, 2023