Date and Time
Sunday Jul 28, 2019
* Davina & the Vagabonds (Bull Run Re...
Description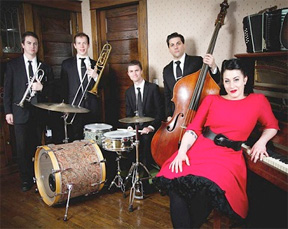 7-28-2019
Davina & the Vagabonds offer "a modern take on old-time blues and jazz." They've created a stir on the national music scene with their high-energy live shows, level A musicianship, sharp-dressed professionalism and commanding stage presence. With influences ranging from

Fats Domino and the Preservation Hall Jazz Band

to

Aretha Franklin

and

Tom Waits

, the band is converting audiences one show at a time, from Vancouver to Miami and across Europe. In 2011 Davina released her first full-length, all-original album, "Black Cloud." It was awarded 4 1/2 stars from Downbeat. Their next release in 2014, "Sunshine," hit number 13 on the

Billboard blues chart

.

DATV's shows are filled with New Orleans charm, Memphis soul swagger, dark theatrical moments that evoke Kurt Weill, and tender gospel passages. And Davina herself has been compared to Etta James, Amy Winehouse, Janis Joplin, Billie Holiday, and Betty Boop. But comparisons don't suffice: she's a true original.
"Listening to Davina & the Vagabonds is like stepping into a wondrous musical time machine. They have the panache and superlative musicianship to recreate the retro sound and ageless appeal of golden age Americana in high-definition reality on stage for your immense pleasure and enjoyment." – Thunder Bay Blues Festival/Canada
"….one of the most distinctive and expressive vocalists to come around in a while, with tight backing from the Vagabonds" – Phoenix Blues Society
"…easily among the breakout stars at this year's [Monterey Jazz] festival." – Monterey Herald

" Think of a meld of Bessie Smith, Etta James, Alberta Adams and Amy Winehouse, and you come close to understanding what Davina Sowers is all about…Davina is
a real talent who deserves greater exposure." – BLUES IN BRITAIN /Mick Rainsford
VIDEO 1
VIDEO 2
VIDEO 3
Buy Tickets