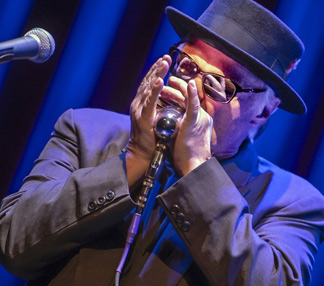 6-9-2023
Award-winning vocalist, instrumentalist and songwriter Curtis Salgado, the man NPR calls "an icon" with "a huge voice," is revered worldwide for his ability to wring every ounce of soul out of every song he performs. Salgado is famed not only for his powerhouse live shows and ten previous albums, but also for his passionate and insightful original songs. He has been nominated three times for the

Blues Music Award

for

Song Of The Year

, winning in 2018 for "Walk A Mile In My Blues" from "The Beautiful Lowdown." In total, he has

won eleven Blues Music Awards

, including the

B.B. King Entertainer Of The Year

. DownBeat calls his songwriting skills "an impressive gift." Billboard says Salgado's music is "inspired and powerful." Now, Salgado is back with "Damage Control," his first full band album in four years, and it's packed with fresh, original material.
With Damage Control, Salgado has created what he calls "a rock 'n' roll record with lyrics that hit." The 13 songs - 12 originals and a raucous cover of Larry Williams' Slow Down (famously covered by The Beatles) - will surprise and delight longtime Salgado fans. Salgado has crafted a soul-searching, street-smart collection of vividly detailed, instantly memorable songs. From the defiant opener "The Longer That I Live" to the bouncy New Orleans crime story "You're Going To Miss My Sorry Ass" to the foot-tapping history lesson of "Hail Mighty Caesar" to the plaintive honesty of "Always Say I Love You," Salgado's vocals weave, bob and soar, at times jabbing with nuance, and then striking with unlimited power. Of the title track, he says, "Life is all about damage control...trouble and then some. It's about dealing with what gets thrown at you and saying, 'I ain't finished yet.'"
By his early 20s he was already making a name for himself in Eugenek Oregon's bar scene, first as the vocalist/harmonica player of The Nighthawks, and later as co-leader of The Robert Cray Band. Salgado quickly developed into a player and singer of remarkable depth, with vocal and musical influences including Otis Redding, O.V. Wright, Muddy Waters, Little Walter, Sonny Boy Williamson I and II, Lightnin' Hopkins and Howlin' Wolf.
Salgado has performed at Portland's Waterfront Blues Festival, The Chicago Blues Festival and The Tampa Bay Blues Festival. He has also played The San Francisco Blues Festival, Memphis' Beale Street Music Festival, Denver's Mile High Blues Festival as well as on The Legendary Rhythm & Blues Cruise. Internationally he's toured in Saipan, Guam, Canada, England, throughout Europe, Brazil, Chile, Panama, The Philippines, Thailand, and Hong Kong. According to Blues Revue, Salgado's performances "start at excellent before segueing into goose bumps, ecstasy, and finally nirvana."
"Glorious and memorable… Salgado's voice is center stage just as it should be. Highly recommended" – Blues & Rhythm UK
"Salgado's vocals are soulful beauty. Fresh, unexpected, authentic, percolating…perfectly executed… simply delicious" – Living Blues
"Salgado inspires chills. Upbeat and original…poignant and wise with a great sense of humor" – Blues Music Magazine
VIDEO
BUY TICKETS
Curtis Salgado (Bull Run Restaurant)
Date and Time
Friday Jun 9, 2023