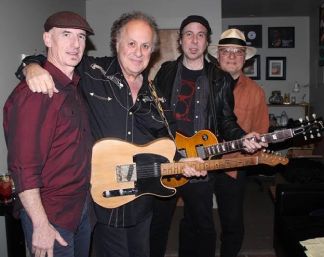 9-15-2023
Arlen Roth is considered one of the most influential guitarists of all time, having toured the world and recorded with artists such as Simon and Garfunkel, Bob Dylan, John Prine, Phoebe Snow, Levon Helm, Ry Cooder, John Sebastian, Janis Ian, Eric Andersen and The Bee Gees.
In 2021, Arlen and the legendary John Sebastian, released an album in tribute to John's music, lead guitarist Zal Yanovsky, and to the LOVIN' SPOONFUL who were a huge influence on Arlen when he was growing up. He was also the man behind the legendary Blues film, "Crossroads," creating the guitar parts, directing the guitar scenes, and working alongside Ry Cooder and Ralph Macchio for seven months in Mississippi and in L.A.
He was voted in the Top 50 Acoustic Guitarists of All-Time by Gibson.com, and in the Top 100 Most Influential Guitarists of All-Time by Vintage Guitar Magazine. He has written eight best-selling books, and "Hot Guitar," is a compilation of ten years of his wildly-popular column for Guitar Player Magazine. From 2007 to 2012, Arlen created over 1,000 online lessons and blogs for Gibson Guitars, which had over 1 million followers.
Arlen's first album "Guitarist," won the Montreaux Critics Award for Best Instrumental Album of the year in 1978, and his 12th album, "All Tricked Out!" garnered 4 Grammy Nominations. His prowess on the Telecaster has earned him the nickname "Master of The Telecaster" and also a master of Slide Guitar. He released a Slide Guitar Summit album featuring duets with many slide guitar greats such as Johnny Winter, Sonny Landreth, Cindy Cashdollar, Greg Martin, Lee Roy Parnell, Jimmy Vivino, David Lindley, Rick Vito, Jack Pearson and others.
In 1993 he released the legendary "Toolin' Around," which featured duets with guitar greats Danny Gatton, Duane Eddy, Brian Setzer, Duke Robillard, Albert Lee, Sam Bush, Bill Lloyd and Jerry Douglas. He followed that album with "Toolin' around Woodstock" with Levon Helm and special guests Sonny Landreth, Amy Helm, Lexie Roth and Bill Kirchen. His 2018 album, "Telemasters," was mostly recorded in Nashville and features Arlen in duets with other Tele Masters such as Brad Paisley, Vince Gill, Steve Cropper, Steve Wariner, Joe Bonamassa, Brent Mason, Albert Lee, Johnny Hiland, Jerry Donahue, Will Ray, Redd Volkaert, Bill Kirchen and Jack Pearson. This album, as well as the Slide Summit were both Produced by the Grammy-award winning Tom Hambridge.
His current band features Eddie Denise on Bass, Peter O'Brien on drums, Chris Foley on 2nd guitar and Bruce Katz on keyboard. His daughter Lexie Roth often sings with the band, and has become a wonderful recording artist, singer and songwriter in her own right. Her credits include singing the classic "Night Life" on the album with Levon Helm.
Arlen continues to record and tour all over the world, getting sell-out crowds and standing ovations wherever he appears and is a pure pleasure to watch at his craft.
BUY TICKETS
Arlen Roth (Bull Run Restaurant)
Date and Time
Friday Sep 15, 2023