Date and Time
Sunday Jan 19, 2020
* Albert Lee Band (Bull Run Restauran...
Description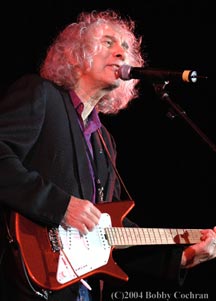 1-19-2020

Eric Clapton called Albert Lee, "The greatest guitarist in the world." Known for his lightning speed playing, Albert has played with some of the biggest names in the business. And doing that has made him equally at home in many styles of music, from blues to rock to country and beyond. Live, Albert is just plain stunning.

He first came to prominence during a 1964-68 stint with British Blues and R & B stalwarts Chris Farlowe's Thunderbirds. His reputation grew and he nabbed appearances on "The London Bo Diddley Sessions" for Chess and Jerry Lee Lewis' "The London Sessions". He later appeared on Don Everly's "Sunset Towers" and Jackson Browne's debut album. The mid seventies found him playing in the Joe Cocker Band and releasing his first solo album. In 1976 he replaced James Burton in Emmylou Harris' Hot Band on tour and played on her great seventies albums albums "Luxury Liner", "Quarter Moon in a Ten Cent Town", "Blue Kentucky Girl", "Roses in the Snow" and "Evangeline". In 1978 he joined Eric Clapton's band, where he recorded and toured for 5 years. All the while he found time to contribute his guitar-fire to three albums with Roseanne Cash, Dave Edmunds, Rodney Crowell, Nanci Griffith, Carlene Carter, and countless others. When the Everly Brothers reunited on September 23, 1983 at London's Royal Albert Hall, Albert was on hand as guitarist and Musical Director. He continued in that role for over 20 years until the Brothers retired.
Albert remains an occasional member of The Crickets, and tours regularly with Bill Wyman's Rhythm Kings. Sugar Hill records released Albert's solo efforts "Heartbreak Hill" in 2003 and "Road Runner" in 2006. A summer 2011 jaunt with John Jorgenson prompted Albert to form his own U.S. band for the very first time. The Albert Lee Band includes John Thomas, aka "J.T', on keyboards, who played for 23 years with Bruce Hornsby. Bass player Will MacGregor has worked with the likes of the Pretenders, Pat Boone, Exene Cervanka and more. And Jason Smith brings both the subtlety of jazz and pounding pulse of rock to his drum stylings.

The first ever documentary film about Albert Lee featuring original songs and documenting the history of Albert's career is in the works. It will feature interviews with many of Albert's family, closest friends and musicians documenting his life and career from his humble childhood in England, through becoming a professional musician at 15 years old, moving to America in the 1970's, touring the world with musical greats, right up to the making of the album he has always wanted to make.

"Albert is in every sense of the word, a genuine guitar wizard" - Earl Scruggs

"Albert is one of my all-time guitar gods..." - Brad Paisley

Special Guest: The Cryers - Along with their original material, the band performs with gutsy exuberance, tunes from the vast archives of Rock 'n Roll, breathing new life into timeless classics as well as contemporary songs from the cutting edge. Sid Berstein, the man responsible for bringing the Beatles to America, calls this band "Magical!"

Buy Tickets