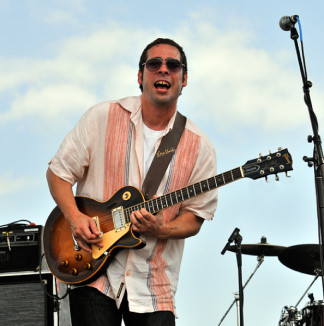 11-15-2023
"It may be a bit premature to crown Albert Castiglia America's newest King of the Blues, but there's little doubt that he at least deserves the title of heir apparent." - Miami New Times

Miami raised Albert Castiglia (pronounced "ka-STEEL-ya")
served an apprenticeship while backing legendary blues musician Junior Wells. He later went on to work with singer Sandra Hall. Never content to allow himself to be confined to any particular category, he embarked on a solo career that's yielded many critically-acclaimed albums and consist kudos for his exceptional instrumental prowess, his searing vocals, and live performances that have dazzled audiences from coast to coast.
It's little wonder that Miami's New Times lauded him as South Florida's "Best Blues Guitarist" or that USA Today was inspired to remark "It's a revelation to discover the thrilling retro-electric blues from this astonishing young guitarist." M Music & Musicians once noted, "His back-to-basics approach follows in the footsteps of those who fostered the blues in the Mississippi Delta and the smoky late-night haunts of Chicago."
After the highly successful and critically acclaimed release of "Masterpiece" on Gulf Coast Records, Castiglia was nominated for two Blues Music Awards in the categories of

Blues Rock Album of the Year

and

Blues Rock Artist of the Year

and won

Blues Rock Album of the Year

.
Albert's new release "I Got Love" was produced by Gulf Coast Records guitarist and co-owner Mike Zito and features a stellar cast of musicians backing Albert Castiglia (guitar and vocals): Ephraim Lowell (drums and) vocals; Justine Tompkins (bass and vocals); and Lewis Stephens (Hammond B3 organ and piano). The new album, which showcases 11 blistering, blues-drenched tracks, is a personal and powerful statement from Castiglia. "I Got Love is a musical essay documenting the last two years of my life: two years of many highs and lows. I went through it all - loss, depression, illness, fear of the unknown. I know I couldn't have been the only one that went through it. This collection of songs is for those who felt like I did. It's for those who went down fighting and those who keep on fighting."
VIDEO 1 - VIDEO 2
BUY TICKETS
Albert Castiglia (Bull Run Restaurant...
Date and Time
Wednesday Nov 15, 2023